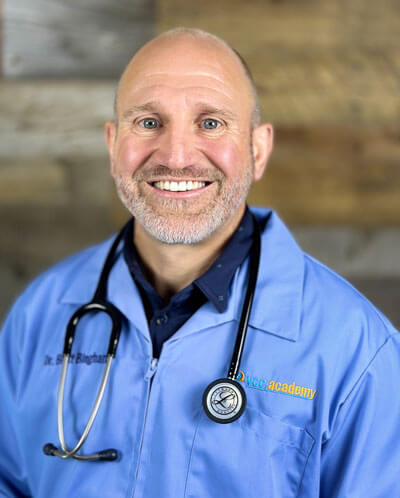 Dr. Bingham at a Glance
Education: Doctorate of Veterinary Medicine, Washington State University (2000 Magna Cum Laude Graduate)
Experience: VCC Founder (2022-Present), Intermountain Pet Hospital (2001-Present)
Awards: 2022 Idaho Veterinarian of the Year
About Brett Bingham, DVM
A skilled veterinarian and communicator, Dr. Bingham is committed to enhancing the veterinary profession by unlocking each veterinarian's full potential through communication training. Dr. Bingham draws on over two decades of experience as a practicing veterinarian and practice owner of multiple hospital locations for many years. He understands the crucial role that effective communication plays in improving patient outcomes, enhancing client loyalty, and boosting practice profitability.
Through his experience as a veterinarian, a leader of a large veterinary team, and pet hospital ownership, Dr. Bingham has found that almost all problems can be traced back to communication errors and almost all successes are rooted in effective communication.
"My mission and that of VCC.Academy is to give confidence, hope, and enjoyment to individual veterinarians everywhere. I want to help them practice to their FULL potential. This is accomplished by providing evidence-based communication training."
In addition to his work as a communication expert, Dr. Bingham is also a successful entrepreneur. He built a four-location veterinary hospital network before partnering with SVP (Southern Veterinary Partners) to focus his efforts on elevating the veterinary profession. He attributes much of his business success to the monthly communication training of his veterinary team.
He has been recognized for his expertise in communication and has presented at a variety of veterinary management meetings. Dr. Bingham is a magna cum laude doctorate graduate of Washington State University (2000) and a former Division 1 NCAA all-American wrestler. He grew up on a dairy farm, served a church mission in Argentina, and is a busy and proud father of five. In his free time, he enjoys mountain biking, motorcycle riding, water and snow skiing, and running.
Dr. Bingham's Story: From New Veterinary Medicine Graduate to Successful Entrepreneur
When Dr. Bingham was a new DVM graduate from Washington State University in 2000, he felt that he had finally arrived.
"I had paid my dues, survived the hard part, and now I would finally enjoy the fruits of my labor. Big paychecks, happiness, success, and fun were within my grasp. My veterinary career was sure to be easier than the challenging years during veterinary school."
His first veterinary job was in a small rural town where the cows outnumber the people 5:1. It was in this town where he had one of the first cases that had him doubting himself and his dreams of being a great veterinarian. After a failed attempt at diagnosing an itchy puppy (later revealed to be demodex), and weeks later dealing with an upset client, Dr. Bingham knew that the real work of becoming an excellent veterinarian had just begun. He had gone from the highest of highs to the lowest of lows within a few short seconds. Despite the strong ties to this small community he was now part of, he worried that his career would be over before it had even begun.
"Looking back 20 plus years to the start of my career, I know that my fear was exaggerated. But at the time, I had real doubts about my future in veterinary medicine. I had so many questions. Was I going to be miserable the rest of my career? Is this going to happen every day? If a client publicly defames me, will others stop coming in? Will I be able to make enough money to pay my student loans? Will I be able to keep food on the table for my family?"
That day changed the way Dr. Bingham approaches the exam room. After a lot of introspection and study, he learned that he could prevent these types of scenarios from happening. It just took the right communication tools and perspective. Decades later, this led to the start of VCC.Academy (Veterinary Communications and Coaching Academy)—a program that helps veterinarians learn critical communications skills to navigate the exam room and beyond.
"Over the years, I have felt a deep need to improve myself and the veterinary profession that I love so much. I've spent the last 21 years trying to perfect a communication curriculum to help prevent scenarios like this. My goal is to help all veterinarians find success and happiness through great communication. Through this time-tested curriculum and regular practice, I now gross over 1.2 million dollars a year working 3 days a week, and my clients love me. I provide exceptional patient care to every client that walks in the exam room. Communication has been the game changer!"
Imagine the bond you can create with your clients by keeping them happy and informed. Communication is the key to happiness in your everyday work. It builds strong relationships with clients who adore you, provides outstanding patient care, and allows you to be efficient and productive in the process. Our goal is to teach you to do exactly that.
The Exam Room Flow Model: A Groundbreaking Communication Model for Veterinarians
In an effort to improve client experience at his veterinarian practice, Dr. Bingham developed the Exam Room Flow Model, a groundbreaking communication model that has revolutionized the way veterinary professionals communicate with clients. VCC.Academy teaches this model to veterinarians who are striving to better their practice and communication skills. Our innovative platform provides veterinary teams with personalized coaching and also self-paced certification. This is a key step in addressing emotional challenges and the burnout that veterinarians face.